Gainful Employment Disclosure
Teacher Training
This course will cover the technical methods of instruction given by demonstrations; communications skills; lecture; classroom participation; or examination. The practical skills of this course shall mean actual performance by the teacher trainee of teaching techniques and principles.
In Our Facility you will learn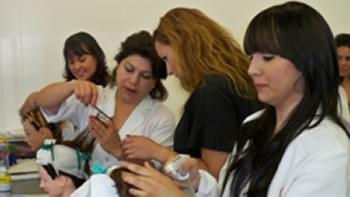 All the rules and regulations of the Board of Barbering and Cosmetology
Health and safety standards
Disinfection and sanitation
Bacteriology, anatomy and physiology
Teaching related information, manipulative operations and techniques
Teaching Aid, instructional lesson planning
Method of instruction, lecture, demonstration and performance
Organizational techniques
Communicational skills and vocational teaching
Preparing a resume and employment development
Curriculum
A curriculum contains the subjects that are to be taught within the course of study.
The State of California, Board of Barbering and Cosmetology mandates the curriculum of all cosmetology schools.
How this curriculum is taught or delivered by the school and its instructors to the students will to a large degree, be instrumental in the level of your success in your new career.
At Hilltop Beauty School the organization and structure of the delivery system has been reviewed and Improved many times over the 50 years that Hilltop has been providing quality education to its students.
Come in and talk with us and our students to see for yourself. We are sure you will enjoy your visit.
Teacher Training Course Curriculum
The curriculum for licensed cosmetologists enrolled in the Teacher Trainee course shall consist of 600 clock hours which covers instruction, demonstration and hands-on practice to reinforce learning. Our classes give students intense instruction on the procedures that salons and clients demands. Normal completion for our Teacher Trainee course in weeks and months: 5 – 8 months; 20 – 32 weeks.
The Teacher Training curriculum includes the following classes:
Cosmetology Act Board Rules and Regulations
Conducting Classroom Technical Instruction and Demonstration
Supervising and Training of Students
Instruction Techniques
Organization Techniques
Techniques of Evaluation
Lesson Planning
Teacher Training Course Performance Objectives:
To help develop the ability to teach related information, operations and techniques. To use teaching aids, such as instruction sheets, visual aids, and tests, and to provide information about specific teaching techniques used by the vocational teacher in the working area and classroom.
Graduation Requirements
Teacher Training
Teacher Training: They shall have completed all theory and operations required by the Board of Barbering and Cosmetology with an average grade of (70%) "C" or better. He or she will be awarded with a diploma certifying his/her graduation, upon completion of 600 hours (clock).1
Net Price Calculator