Gainful Employment Disclosure
Manicuring/Nailcare
This course will cover all areas of manicuring/Nailcare and pedicuring. Successful completion of this course and the State National Examination and Licensure will allow the nail technician to perform manicuring and pedicuring services.
In Our facility you will learn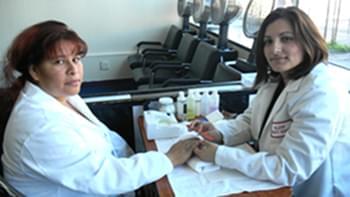 All the rules and regulations of the manicuring field
Disinfection and Sanitation
Health and safety standards
Bacteriology, anatomy, physiology, and chemistry of hands, feet, and nails
Proper use of implements used in manicuring / pedicuring
Terminology and procedures
Analysis of hands and feet
Communication and salesmanship
Preparing resumes and employment training
Desk and reception
State Board Training – mock board practical and technical exams
Curriculum
A curriculum contains the subjects that are to be taught within the course of study.
The State of California, Board of Barbering and Cosmetology mandates the curriculum of all cosmetology schools.
How this curriculum is taught or delivered by the school and its instructors to the students will to a large degree, be instrumental in the level of your success in your new career.
At Hilltop Beauty School the organization and structure of the delivery system has been reviewed and Improved many times over the 50 years that Hilltop has been providing quality education to its students.
Come in and talk with us and our students to see for yourself. We are sure you will enjoy your visit.
Manicuring/Nailcare Course Curriculum
The curriculum for students enrolled in a manicurist course consist of 400 clock hours of technical instruction and practical operations that cover all the practices which constitutes the art of manicuring pursuant to Section 7316 of the Barbering and Cosmetology Act. Technical instruction means instruction given by demonstration, lecture, classroom participation, or examination. Practical operation shall mean actual performance by the student of a complete service on another person or mannequin. Normal completion for our Manicuring course in weeks and months: 2.5 – 5 months; 10 – 20 weeks.
The Manicuring/Nailcare curriculum includes the following classes:
Cosmetology Act Board Rules and Regulations
Cosmetology Chemistry
Health and Safety
Nail Wraps and Repairs
Disinfection and Sanitation
Bacteriology, Anatomy and Physiology
Employment Training
Nail Tips
Manicures: Water and Oil
Artificial Nails: Liquid Powder and Brush-ons
Pedicure: Ankle and Foot Massage
Manicuring/Nailcare Course Performance Objectives:
Once you have become a licensed manicurist you will then be prepared to seek employment for profit as a manicurist specialist, salon manager, salon owner, and product demonstrator.
Graduation Requirements
Cosmetology:
All students who have completed the required hours and operations upon finishing their 400 hour course graduate. When a student has completed all required hours and operations and the cumulative total of 400 hours (clock) for the Manicuring course with a GPA (Grade Point Average) of (70%) "C" or better he/she is awarded a diploma certifying his/her graduation. Students are helped with the necessary papers that they need to file with the State Board of Barbering and Cosmetology Examination.